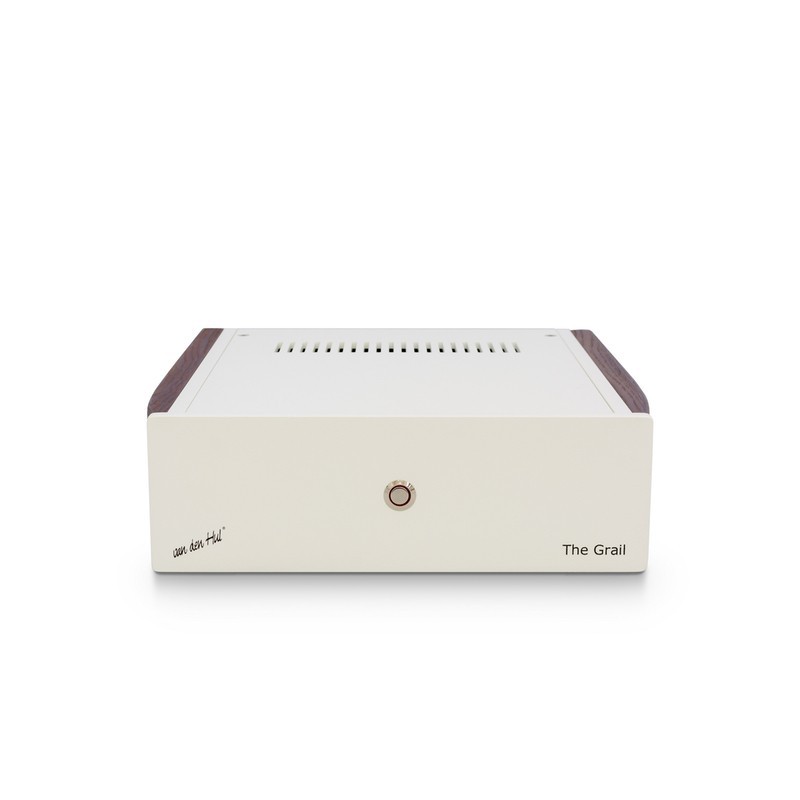  
Van den Hul - The Grail
With this product you will be the owner of one of the most innovative and advanced phonograph preamplifier's available at the moment.
"The Grail" is a really dulcet phonograph preamplifier, specifically designed bearing ultimate performance and reliability in mind.
We only sell selected and tested products.
Delivery and installation by a specialist.
Benefit from a personal consultation.
Test products in your system
Designed to provide high-end audio, "The Grail" will deliver you outstanding sound quality with nearly every available modern cartridge.
Also available with a battery power-supply.
Featurelist:
- A specific designed Phono preamplifier section, unique in the world
- Phonograph RIAA – equalization with coils only, no sound impairing capacitors in filters
- Special printed circuit board material with gold conducting paths
- The printed circuit board has a special seating to evade microphonics
- Special equipment foot made of selected wood avoids mechanical energy storage
- Low noise moving coil input stage, no annoying noise even with low-output cartridges
- Automatic adapting input stage for moving coil cartridges, no matching resistors needed
- Possibility to compensate phonograph cartridge sensivity (level adjustment)
- Cut out of coupling capacitors in the signal path as far as possible
- Strictly separated amplifier sections and circuit layout deliver a very natural soundstage
- Inputs: two phono inputs, one for MC cartridges, one for MM or MC high-output
- A shielded transformer is placed in an external housing to avoid hum and EMI noise
- Power supply with Gyrators for each amplifier stage deliver very high noise cancellation
- The external transformer is available for different mains voltages
2 other products in the same category: